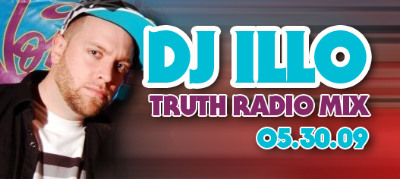 THE BEST RADIO SHOW IN THE COUNTRY IS BACK TO BRIGHTEN UP THAT MONDAY. THIS TIME DJ ILLO HITS IT WITH SOME FRESH NEW BLENDS, EDITS, REMIXES OF FUNK, DISCO, HOUSE, HIPHOP & MORE. BIG UPS EH TEAM / ILLO FOR KEEPIN IT REALZ...
DJ ILLO-TRUTH RADIO MIX 05.30.09
TRACKLISTING IN THE HOLLAZ...