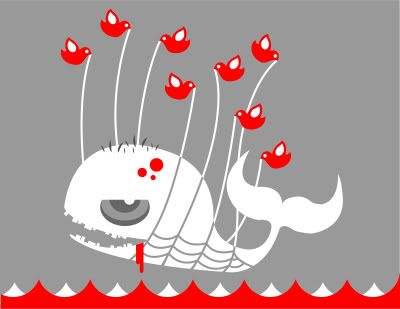 IF YOU DONT ALL READY KNOW, TWITTER IS THE BALLS. ITS TOTALLY MADE FOR YOUR BLACKBERRY/IPHONE TO KEEP IN TOUCH WITH YOUR HOMMIES, STALK YOUR FAV CELEBS OR GET UPDATES FROM YOUR FAVORITE BLOGS. SO YOU IF YOU FOLLOW STEREOBAIT, YOUR GONA GET INSTANT UPDATES WHEN NEW TRACKS ARE POSTED. THEN U CAN GET IT FIRST AND BE THE ENVY OF ALL YOUR FRIENDS. SOUNDS RAD RIGHT?
FOLLOW STEREOBAIT
HERE
OR SIGN UP FOR TWITTER
HERE
FOR FREE
ALSO- IF LIKE THE GRAPHIC POSTED ABOVE, ITS SOMETHING I MADE AT THE REQUEST OF DIPLO. I THREW IT UP ON TWITTER A FEW WEEKS AGO AND ITS HAD A HUGE RESPONSE. DOWNLOAD A HIGH QUALITY VERSION
HERE
. I WILL POST UP THE WALLPAPER VERSION SOON.