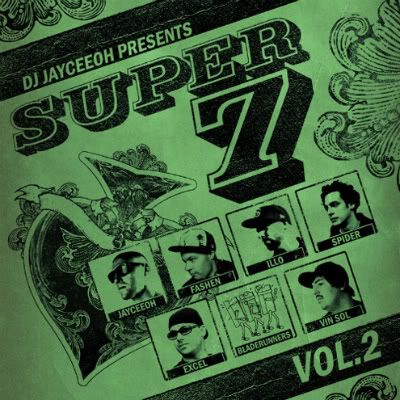 Three months after the release of SUPER 7 Volume One, JayCeeOh is back with Super 7 Volume Two. Volume one generated over 40,000 downloads and critical acclaim from some of the worlds top websites, DJs , and tastemakers. URB.com said it was "A mixtape of epic proportions", It was a top-seller on Turntablelab.com, and also featured on the front page of Highsnobiety.com.
JayCeeOh came back swiftly with a roster just as official as the first. Volume 2 is comprised of some of the industries most in demand party rockers. Including DJ's Fashen (PHX), Spider (LA), Bladerunners (BOS), Illo (Canada), Excel (PHI), and Vin Sol (SF). Each DJ contributed a 10 minute megamix resulting in a 64 track monster known as SUPER 7 Vol. 2. Original Production, Edits, Blends, Scratches, Juggles, and Mash-Ups can all be found on this seemless mix that will set any party on fire. Super 7 Volume 1 set the standard, Volume 2 has raised the bar!
BEST MIX EVER...
DJ JAYCEEOH PRESENTS SUPER 7 VOL • 2
zshare
TRACKLISTING IN THE HOLLAS...