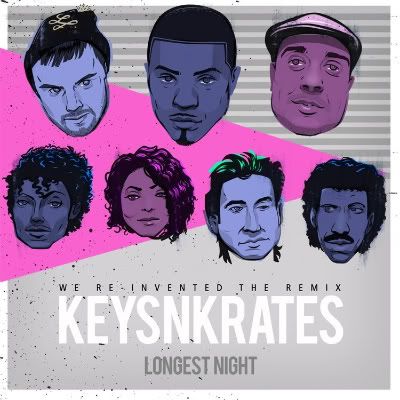 SO IF YOU HAVNT HEARD ABOUT THE KEYS N KRATES PHEONOMON-IT GOES DOWN LIKE THIS: ONE DUDE ON THE TURNTABLES PLAYING ACAPELLAS AND DOING THE SCRATCHING OF THE CENTURY, ONE DUDE ON THE KEYBOARD PLAYING THE RIFFS FROM THE ACAPELLA AND ANOTHER DUDE ON THE DRUMS MAKING THE BEAT! SOUNDS FUCKING INSANE RIGHT?
CHECK OUT MORE @ THEIR
WEBSITE
AND
MYSPACE
HERE IS A SAMPLE OF THE SWEET SOUND THIS TRIO CAN MAKE-IF YOUR EVER IN THE EASTERN PART OF CANADA, TRACK DOWN A KEYS N KRATES SHOW AND GO BONKERS! OR STAY TUNED FOR THEIR TOUR DATES. BIG UPS JR FLOW, MATISSE AND ADAM TUNE!
KEYS N KRATES-THE LONGEST NIGHT