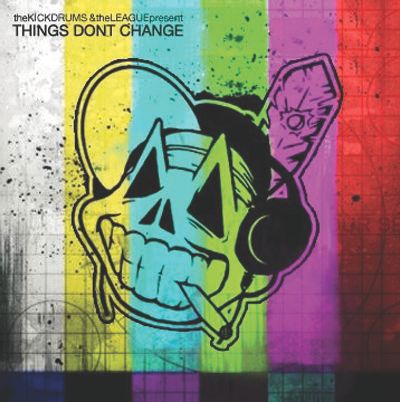 "The Kickdrums and League Crew team up to release this truly progressive mixtape featuring a non-stop blend of thumping beats, catchy melodies, and original production. Presented by the Commissioner of The League Crew, Mick Boogie and right hand man, Terry Urban, "Things Don't Change" showcases The Kickdrums ability to blend multiple genres seamlessly together creating a new sound that is sure to create a buzz amongst major labels and new fans alike. This promo mixtape is being released in preparation of The Kickdrums debut indie rock album, "Detached... At Ease" due out this December. Check out the lead single, "Love is a Drug" on the mixtape and visit The Kickdrums' myspace page for more details!"
THE KICKDRUMS-THINGS DONT CHANGE MIXTAPE
TRACKLISTING IN THE HOLLAZ...